1-
15.02.2010 tarihli DefenseNews İsrail kaynaklı olarak (Uzi Rubin . İsrail füze savunma organizasyonu direktörü) İran balistik füze programı ile ilgili yeni gelişmelere yer vermiş:
Temel olarak Safir-1 SLV füzesiden sonra gelen ''Simorgh'' (Simurg kuşlarından esinlenilmiş.Bk. konuyla ilgili masal , efsane) adı verilen füzenin 2 kademeli , 87 ton ağırlığında, taşıma kapasitesinin 100 kg olduğu belirtilmiş. Yakın gelecekte (1-2 yıl) İran'ın Kıtalar Arası Balistik Füze (ICBM) sahibi olması muhtemeldir.
Planeman tarafından hazırlanmış resim, diagram:
Fortress-Iran
http://www.militaryphotos.net/forums/showthread.php?129494-Fortress-IranFortress-Iran-2
http://www.militaryphotos.net/forums/showthread.php?154403-Bluffers-guide-Fortress-Iran-2
2-
'New Iranian missile puts Europe within reach'
By YAAKOV KATZ ---04/02/2010
'Satellite launch vehicle' could be adapted into ICBM, capable of carrying nuclear warhead.
Iran flexed its muscles on Wednesday, displaying a new missile that the Islamic Republic claimed would serve as a satellite launch vehicle (SLV). But Israeli defense officials warned it could one day become an intercontinental ballistic missile (ICBM) with a range of several thousand kilometers, putting almost all of Europe in its reach.
A model of the missile, named Simorgh, was displayed at a space show in Teheran, along with the three new Iranian-built satellites – Mesbah-2, Tolo and Navid-e-Elm-o-Sanat.
Iranian officials said that the 87-ton Simorgh could carry a satellite weighing 100 kilograms and place it into orbit in space. Hailing the new technology, Iranian President Mahmoud Ahmadinejad said the Simorgh would carry Mesbah-2 into space, but gave no timeframe.
"The scientific arena is where we should defeat the [West's] domination," Ahmadinejad said, in remarks broadcast live on state TV. He said the launch is a "very big event. This is the first presence of animals in space launched by Iran. It's the start of bigger achievements" to come.
Tal Inbar, head of the Space Research Center, Fisher Institute for Air and Space Strategic Studies, said that the unveiling of the Simorgh was a worrisome development since the missile could one day be adapted into an ICBM, capable of carrying a nuclear warhead.
After analyzing images of the missile, Inbar said that it appeared to currently be powered by liquid fuel, but could one day be configured to work with a solid fuel propellant, a technology that the Iranians have already begun using in their Sajil ballistic missile, which has a range of around 2,500 km.
"This is a major technological breakthrough and could mean that the Iranians are on their way to obtaining an ICBM," he said.
In addition to presenting the Simorgh, the Iranians also announced the successful launch of a research rocket carrying a mouse, two turtles and worms into space. Experts said the choice of animals served no purpose.
The launch of the rocket, called Kavoshgar-3, which means Explorer-3 in Farsi, was announced by Defense Minister Gen. Ahmad Vahidi to mark the National Day of Space Technology. It came a year after Iran sent its first domestically made telecommunications satellite, called Omid, or Hope, into orbit for 40 days.
Iran's state TV broadcast images Wednesday of officials putting a mouse, two turtles and about a dozen creatures that looked like worms inside a capsule in the rocket, which appeared to be about three meters long, before it blast off.
Kavoshgar-3 is the third in a series bearing the same name. Iran reported launching Kavoshgar-1 in February 2008. The first section of the rocket detached after 90 seconds and returned to earth with the help of a parachute. A second segment entered space for about five minutes, while the final section was sent toward orbit to collect data.
Ahmadinejad said Iran built the Mesbah-2 with domestic technology, after foreign partners refused to cooperate. He didn't name any country, but Iran said last year that it plans to launch a communications satellite by late 2011 with no outside help, after Italy and Russia declined to put it into orbit.
Its predecessor, the Mesbah-1 satellite, was first displayed in 2005. Iran planned to launch it the same year with Russian help but Moscow repeatedly delayed providing a satellite-carrier.
"Mesbah-1 had a sad fate ... they didn't have the courage to launch our satellite," Ahmadinejad said.
In 2005, Iran launched its first commercial satellite on a Russian rocket in a joint project with Moscow, which is a partner in transferring space technology to Iran. That same year, the government said it had allocated $500 million for space projects for the next five years.
http://www.jpost.com/IranianThreat/News/Article.aspx?id=167719
3-Iran's Missile (Development) Trajectory
posted Friday February 5, 2010 under iran, ICBMs by geoffrey_forden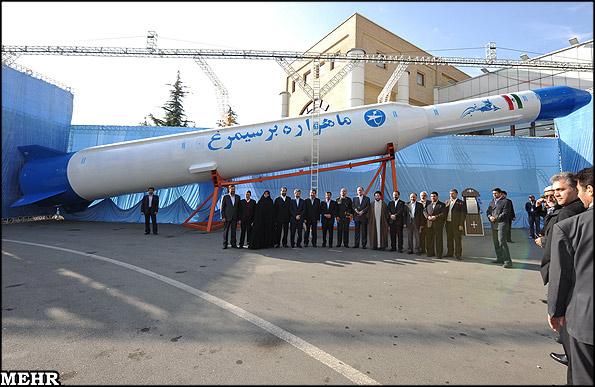 A new, large, two-stage rocket with the Iranian space agency logos on it. The second stage appears to be the same stage (and nose fairing) as the Safir's second stage.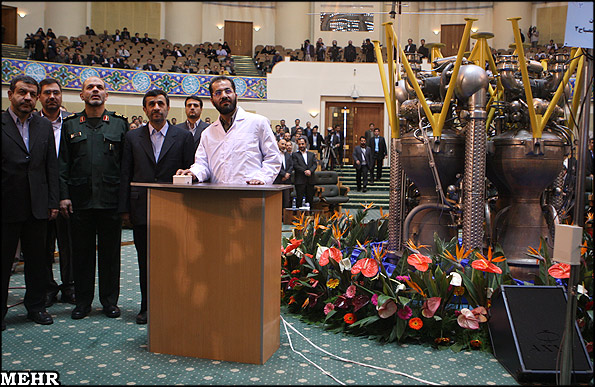 An Iranian rocket scientist unveils the new cluster of four Nodong engines, known as the Phoenix (if Google translate is working properly). The yellow struts above the engines are for transmitting the thrust to the rocket's airframe. Their presence implies that the first stage will use jet vanes for thrust vector control.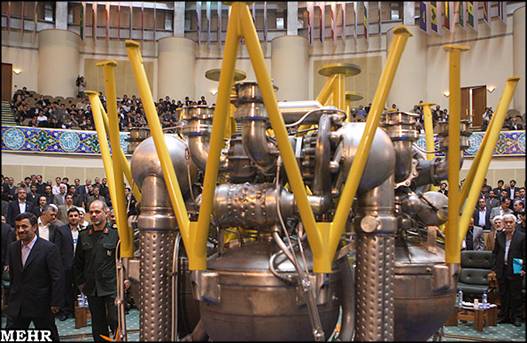 The top of the Phoenix power plant, showing the combustion chambers and the full diameter of the struts. Calculations by the author indicate that this cluster of four engines would certainly fit inside the large rocket body shown above.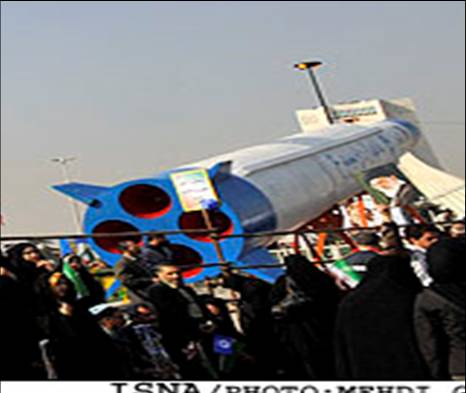 http://www.armscontrolwonk.com/2617/irans-missile-development-trajectory