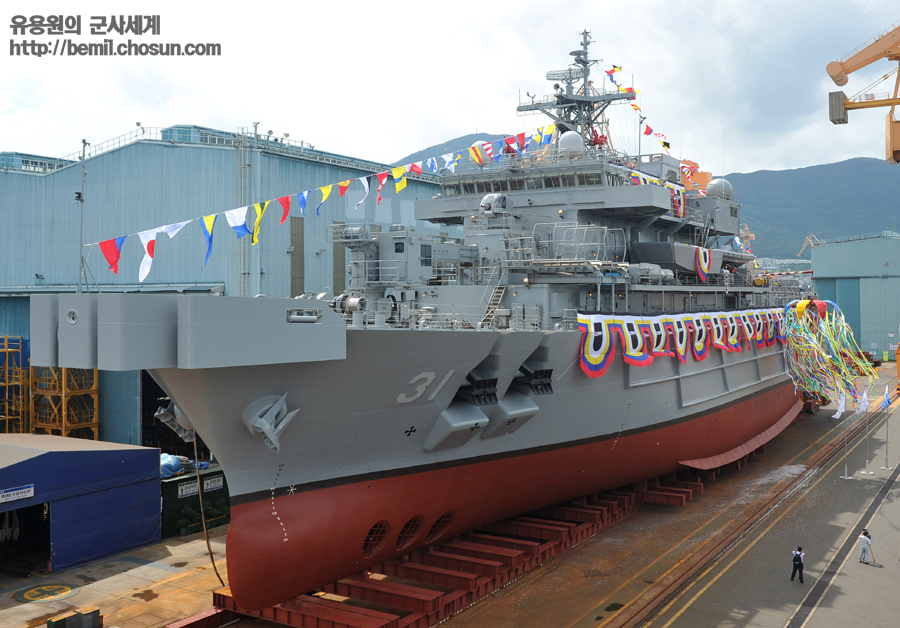 September 05, 2012
Daewoo Shipbuilding and Marine Engineering (DSME) launched Korea's first salvage and rescue ship. DSME-built ATS-II "Tongyeong" is a salvage and rescue ship of 3,500-ton class first built for the Navy ROK.
The Navy unveiled on Sept. 4 that it had opened a launching ceremony for "Tongyeong" in presence of CNO (Chief of Naval Operations, ROK) Admiral Yoon-Hee Choi, Jae-Ho Koh, CEO of DSME, Dong-Jin Kim, Mayor of Tongyeong City Administration and other dignitaries.
ATS-II, a salvage and rescue ship built with Korean technologies is set to salvage and rescue a ship in distress or aground, pursuing diverse rescue duties of searching for sunken ships and flights, of salvaging and towing them, of fighting fires and preventing oil spillage at sea.
"Tongyeong" was built last November, 2010 as required to replace aged naval ships and to secure survivability in emergency for naval ships growing bigger. The ship launched one year and 11 months after being built will be delivered in the second half of next year after sea-trial tests over months ahead.
"Tongyeong" is capable of towing a 570-ton class PKG with guided missiles, using hydraulic equipment, and also of towing even "Dokdo," a ship of 15,000-ton class.
Notably,
she is equipped with a ROV searching the maximum water depth down to 3,000m
and with side scan sonar of cutting-edge which makes her sharply outperform other existing ships in searching capability. She has a supportive system for SSU (Ship Salvage Unit) to operate at subsea of 90m water depth.
At a time of salvage and recue, "Tongyeong" is capable of conducting stable rescue operation, adopting 'Automatic Positioning System' to keep her in right direction from the impact of sea-wave, current and wind. She has a chamber accommodating maximum 8 persons including navy surgeons along with flight deck for a medium-sized helicopter to take off and land with patients onboard for speedy treatment and transport.
"Tongyeong" measures 107.5m in length and 16.8m in width and sails at max speed of 21knots. She takes 24 hours, leaving Jinhae Port and arriving at Baengnyeongdo, an Islet, off Incheon. "Pyeongtaek" and "Gwangyang" salvage/rescue ships take two days to leave Jinhae for arrival at Baengnyeondo—the two ships previously taken over from US Navy after their retirement.
A Navy insider said, "With 'Tongyeong' launched, The Navy ROK is facing an era of Korea-built salvage/rescue ships along with 'Cheonghaejin,' a submarine rescue ship," adding with an emphasis that "The Navy is fully geared up with stable and supportive system for long-haul task operation." He stressed, "Navy is expected to play a big part as national force in responding to all marine casualties as well as naval operation."
On the other hand, the Navy alone had made its first landing operation at Tongyeong along with the Marine Corps during the Korean War, and named the new salvage and rescue ship "Tongyeong" in commemoration of Tongyeong City Administration's all-out efforts to make memorable events for Admiral Yi Sun-Shin.
http://eng.maritimepress.com/news/articleView.html?idxno=1244