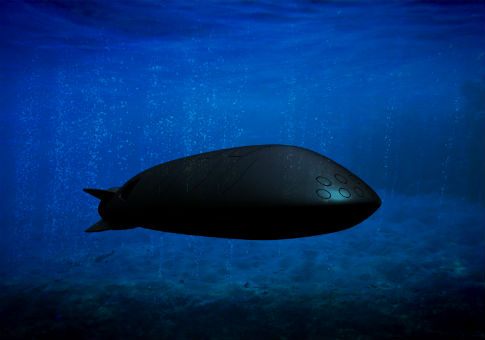 Kanyon UUV / Artist's rendering
08.09.2015 SOURCES - Free Beacon
Russia is building a drone submarine to deliver large-scale nuclear weapons against U.S. harbors and coastal cities, according to Pentagon officials.
The developmental unmanned underwater vehicle, or UUV, when deployed, will be equipped with megaton-class warheads capable of blowing up key ports used by U.S. nuclear missile submarines, such as Kings Bay, Ga., and Puget Sound in Washington state.
Details of the secret Russian nuclear UUV program remain closely held within the U.S. government.
The Pentagon, however, has code-named the drone "Kanyon," an indication that the weapon is a structured Russian arms program.
The nuclear drone submarine is further evidence of what officials say is an aggressive strategic nuclear forces modernization under President Vladimir Putin. The building is taking place as the Obama administration has sought to reduce the role of nuclear arms in U.S. defenses and to rely on a smaller nuclear force for deterrence.
Officials familiar with details of the Kanyon program said the weapon is envisioned as an autonomous submarine strike vehicle armed with a nuclear warhead ranging in size to "tens" of megatons in yield. A blast created by a nuclear weapon that size would create massive damage over wide areas.
A megaton is the equivalent of 1 million tons of TNT.
On missiles, megaton warheads are called "city busters" designed to destroy entire metropolitan areas or to blast buried targets. An underwater megaton-class drone weapon would be used to knock out harbors and coastal regions, the officials said, declining to be named due to the sensitivity of the information.
"This is an unmanned sub that will have a high-speed and long-distance capability," said one official, who noted that the drone development is years away from a prototype and testing.
...
http://freebeacon.com/national-security/russia-building-nuclear-armed-drone-submarine/